Dose Response Roguelike
Dose Response is a roguelike game where you play an addict. Avoid the dangers threatening your mind and body while desperately looking for the next fix.
You can download and play it, but it's a work in progress.
You can also play Dose Response in the browser!
Screenshot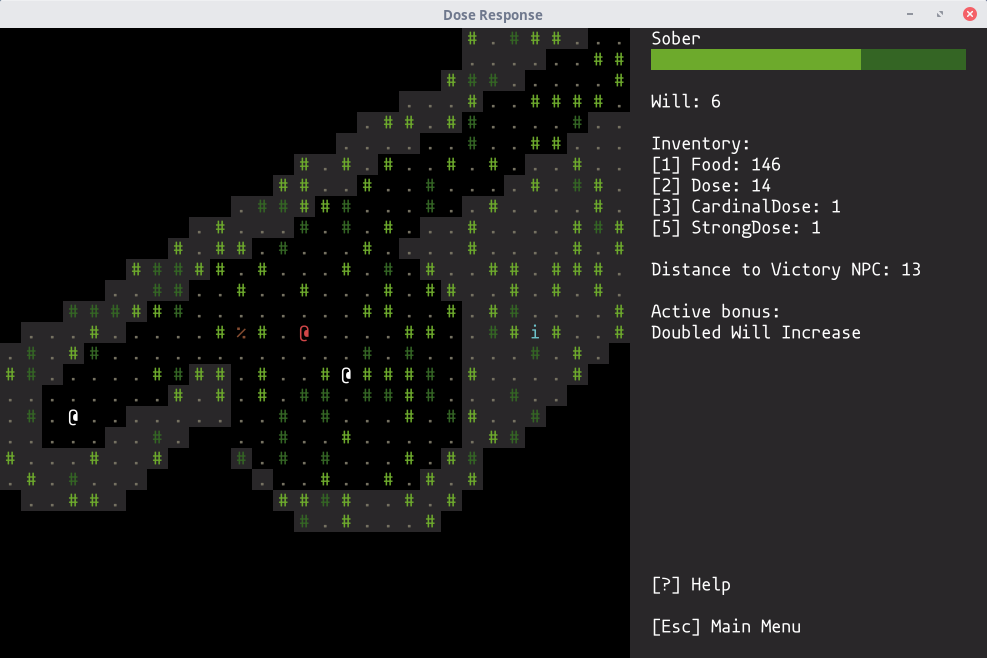 What's New in version 0.10 (Beta 1):
Fixed crash when restarting the game in the browser
Fixed a visual glitch when scrolling the map
Victory NPCs leave an explanation when they leave because the player got high
Companion NPCs now move as fast as the player and can't be easily left behind
Added an About page to the in-game help
Added version, homepage and git commit to the the game log (dose-response.log)
Added version to the main menu
Fixed the display size in the glium backend
You can see the full Dose Response change log on github.
Download
We have builds for Windows, Mac and Linux.
You can also play it in the browser
Version 0.10
How To Play
You control the @ character on the screen. You can move in the four cardinal directions (up, down, left and right) and four diagonal directions (north-east, south-east, north-west, south-west).
Whenever you see a % it's a food that you can pick up and use later. If you move onto it, you pick it up automatically.
i is a dose and your character uses it as soon as you step on it. It destroys nearby monsters and expands your field of view.
When your come down from the effect of the dose, you'll go into a withdrawal. Eventually, you'll lose of exhaustion.
You can eat food (or find another dose) to stave off the effects.
When you have an item you can use (such as food) it will appear in your inventory in the sidebar next to a numeric key. You use it by pressing the key.
Remember:
At the beginning, you can overdose very easily
Doses differ in purity, sometimes you come across a weak one and other times it's the bomb
You build up tolerance so you'll eventually have to consume more and more doses or move onto the stronger stuff
It is possible to win the game
Controls
There is no mouse support (yet!) in the game so you play by pressing the keys. There are three keyboard schemes you can use:
Numpad
Most desktop computers have a numpad, but a lot of laptops don't. If you have it, you can use its keys to move around:
Use 8, 2, 4 and 6 keys to move up/down/left/right.
To move diagonally, use 7, 9, 1 and 3 to move north-west, north-east, south-west and south-east.
Arrows + ctrl/shift
Use your up, down, left and right keys to move up/down/left/right.
To move diagonally, pressing control and left/right means "north" and pressing shift means "south".
So to move north-east you hold control and press right. To go south-west you hold shift and press left.
Vi-keys
Use k, j, h and l to move up/down/left/right.
To move diagonally, press y, b, u and n to move north-west, south-west, north-east and south-east.